The Problem
A common theme for all Councils, large and small, is they have a requirement to:
Deliver up-to-date & dynamic content via the Council website and multiple social channels;
Utilise a number of tools provided by different vendors that are not integrated with their website platform;
Expectations
In todays day and age, there is a greater expectation that technology will make our lives easier. Less steps and effort required to produce work quicker and more efficiently. General expectations also include:
Centralised login for managing multiple websites & applications;
Applications/platforms do the heavy lifting – less effort & skill/knowledge required from the web admin;
Social sign-on capabilities (using your social account to sign in rather than creating a stand-alone account);
Being able to access content via a single (or as few as possible) resources as possible;
Council tools include:
ECM
EDRMS/CMIS
Forms
MapInfo Exponare
Smarty Grants
My Community Directory
Financials
eProperty
Development and Planning online
TenderBox
Software providers include:
Tech1
Civica
Snap Send Solve
MailChimp
Local Buy
Apply Now
Guardian
Social tools & actions include:
Facebook

Check-in
Like business page
Review/rate business

Twitter

Trending topics or #Hashtags

TripAdvisor

Places of interest
Restaurant and cafe listings
Review attractions/restaurants

Google

Business listing
Review places/businesses
Analytics (site)
Google Plus

AddThis

Social sharing statistics
The relationship broker
Imagine if a solution could be developed that not only provided council with a website but an integrated solution that supported the various products council require to operate.
Syndicated information
In addition, imagine if the public data populated by all QLD Councils who use the solution / platform could be pushed to an App for Community members to access. Not just for an individual Council or Region but for all of Queensland…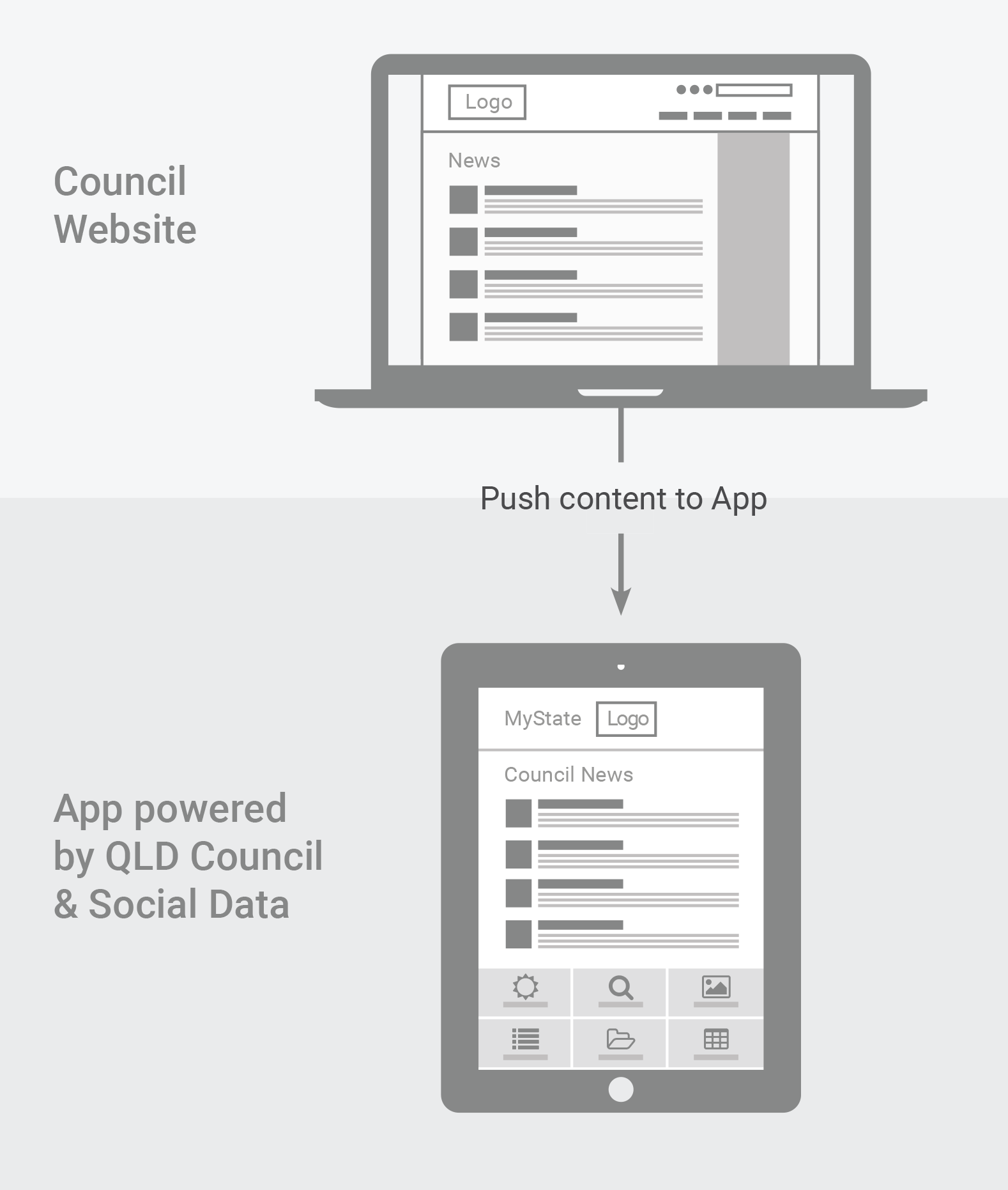 Users of modern technology expect future solutions to be more broad than just another website, CMS or platform that is used for displaying static and semi-dynamic content with a few integration options … A portal that enables customers to use all the tools they need within the one platform, seamlessly integrated, is required.
This solution won't be something councils have to use, it will be something they will want to use.
The rich council data along with social powered interactions will drive a state-wide App that enables community users to:
Create a profile using social sign-on, select areas / regions / councils of interest to receive notifications about:

Councils news;
Upcoming events;
Places of interest (GeoLocation & TripAdvisor listings);
Weather warnings (BOM & Guardian);

Set communication preferences:

Push notifications (default);
Email (Councils, events & weather warnings);
SMS (road reports, weather warnings);

Receive suggestions (based on preferences & GeoLocation):

Places of interest – promote Facebook check-ins;
Food or drink locations – create a review later list;
Receive 'Welcome' message when entering new region.
The Council website is not replaced but enhanced. The App utilises the data from all Council public sites & delivers the information straight to the Community members finger tips.